Dale Earnhardt
In Memory of Dale Earnhardt, 1951-2001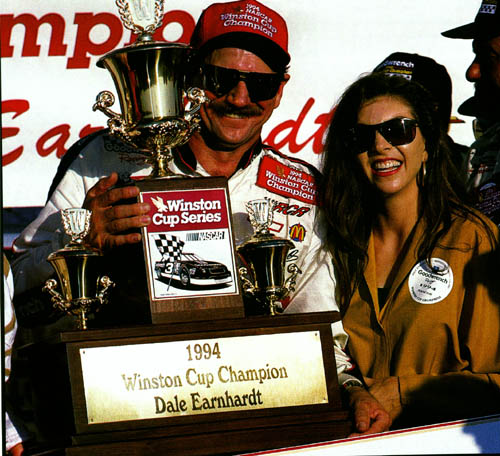 This page is dedicated to the late great Seven Time Winston Cup Series Champion, Dale Earnhardt (Old Ironhead and The Intimidator).
NASCAR Career Statistics
Seven Time Winner of the Winston Cup Series Championship
(1980, 1986, 1987, 1990, 1991, 1993, 1994)
1979 Winston Cup Rookie of the Year
76 Career Winston Cup Wins
International Race Of Champions (IROC) Statics
Four Time IROC Champion (1990, 1995, 1999, 2000)
11 Wins

Ralph Dale Earnhardt – Born April 29, 1951 in Kannapolis, North Carolina. The son of Ralph and Martha Earnhardt.
Dale has two older sisters (Kaye and Kathy) and two younger brothers (Randy and Danny).
When Dale was young, he started to help his dad in the race shop. He actually knew the difference between a half-inch wrench and a three-quarter-inch wrench before he could say his ABC's.
Dale quit high school and started racing when he was 16 years old.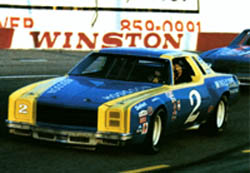 Dale started his first Winston Cup race in 1975 for car owner Ed Negre at Charlotte Motor Speedway and finished 22nd.
In 1979, Dale started his full-time Winston Cup career driving for Ron Osterlund in the Mike Curb Chevy Monte Carlo.
Dale won his first race at Bristol Motor Speedway and the Winston Cup Rookie of the year in 1979.
In 1980, he won his first Winston Cup Series Championship with 5 wins and 19 top 5s. The only person to win Rookie of the Year and a Winston Cup championship in consecutive seasons.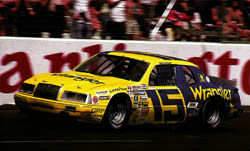 In 1981, Ron Osterlund sold his Winston Cup team. Dale finished the season driving for Richard Childress in the Wrangler Pontiac Grand Prix where he finished 7th in points.
In 1982 and 1983, Dale drove for the Bud Moore own Wrangler Ford Thunderbird. He only won three races in his two season with Bud Moore. This was Dale's low point in his career, finishing 12th in 1982 and 8th in 1983 in the points standing. He had 31 DNFs those two years, mostly because of engine failures.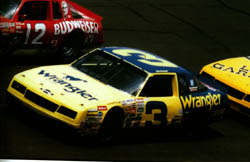 In 1984, Dale and Richard Childress reconnected and started the dynasty that you know today. Dale drove the #3 Wrangler Chevy Monte Carlo. 1984 and 1985 were the building years for Earnhardt and Richard Childress. They won 6 races and finished 4th and 8th in points.
In 1986, Dale won his 2nd Winston Cup Series Championship.
Dale dominated in 1987 with 11 victories to win his third championship.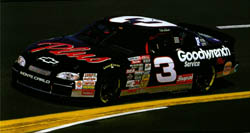 In 1988, Richard Childress and General Motors partnered up and brought GM Goodwrench aboard as the primary sponsor. That gave Dale the "Man in Black" image.
In 1988, Dale would finish 3rd in points behind Bill Elliot and Rusty Wallace.
In 1989, Dale finished 2nd behind Rusty Wallace.
In 1990, 1991, 1993 and 1994, Dale would win four more championships, tied with Richard Petty for the all-time lead.
In 1995, Dale finished 2nd in points to upcoming Jeff Gordon.
Dale stayed in the top 5 in points the remaining years and finished 2nd in points in 2000, going for that record 8th championship, behind Bobby Labonte.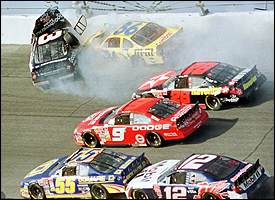 That quest ended February 18, 2001. The day NASCAR lost their greatest driver ever!!!
Daytona International Speedway, Florida
Turn four of the last lap in the Daytona 500.
Dale Earnhardt died instantly from head injuries.
We will never forget you Dale!!!
His legend lives on with his racing family and Dale Earnhardt Incorporated (DEI).
Dale has four (4) kids. Kerry, Kelley, Dale Jr, Taylor Nicole and his loving wife, Theresa.